Moderators: Matthew, neps, Michael Pajaro, Joe Huth
FLAG Operative
Posts: 1124
Joined: Wed Mar 20, 2002 1:01 am
What year did the original Knight Rider start: 0
Location: Western Pennsylvania
Welcome to the Chariot of Gold locations thread!

Joe
---
I've no idea if this location has been found before, but the scene where Michael is forced to hitchhike after the altercation at the archaeological site (and is then subsequently picked up by Charlene), was filmed at approximately 29527 Bouquet Canyon Road in Saugus, next to the Lombardi Ranch.
34°28'8.16"N
118°28'17.08"W
---
Operative
Posts: 145
Joined: Tue Jun 05, 2007 3:26 am
What year did the original Knight Rider start: 0
Location: San Diego, CA
I found multiple driving scenes in this episode, which appear multiple times in later episodes.
#1. driving scene when the title "CHARIOT OF GOLD" appears (00:01:50)
approximate address:
13110E Fort Tejon Rd
Pearblossom, California
GPS: 34°28'21.62"N 117°53'58.60"W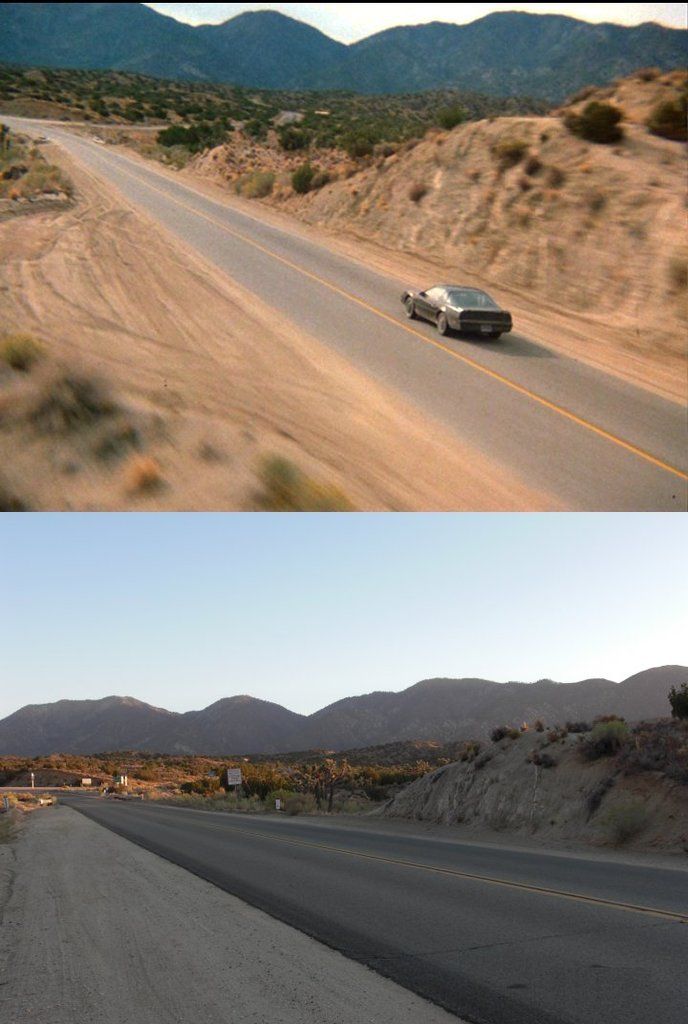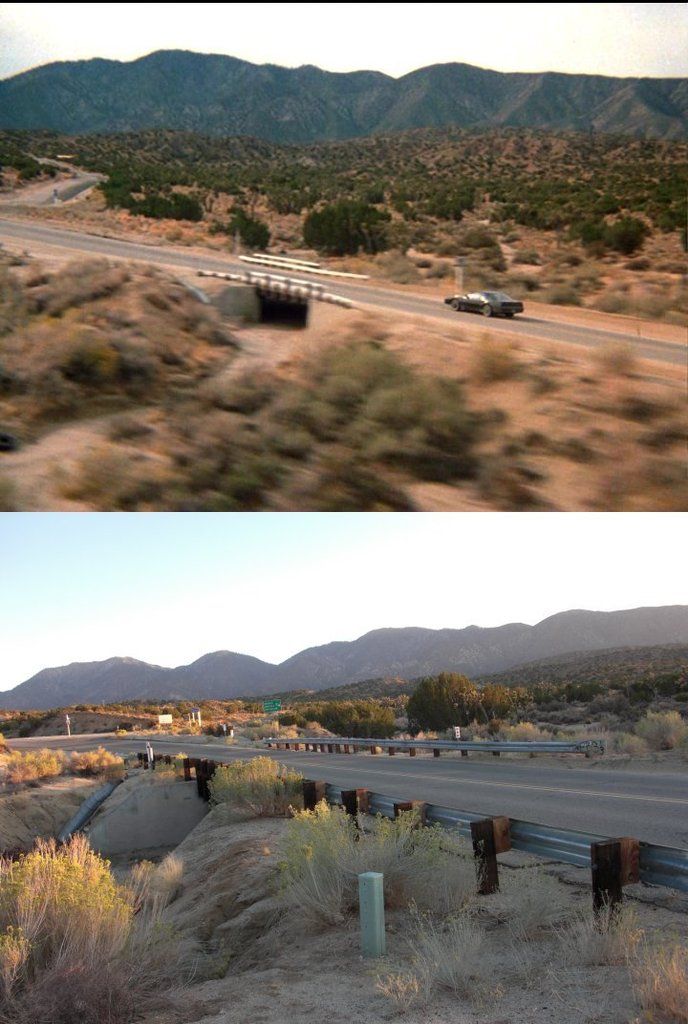 #2. driving scene before Michael measured Dr. Litton's blood pressure (00:04:06)
approximate address:
150th St E
Lake Los Angeles, CA 93591
GPS: 34°35'0.61"N 117°51'44.52"W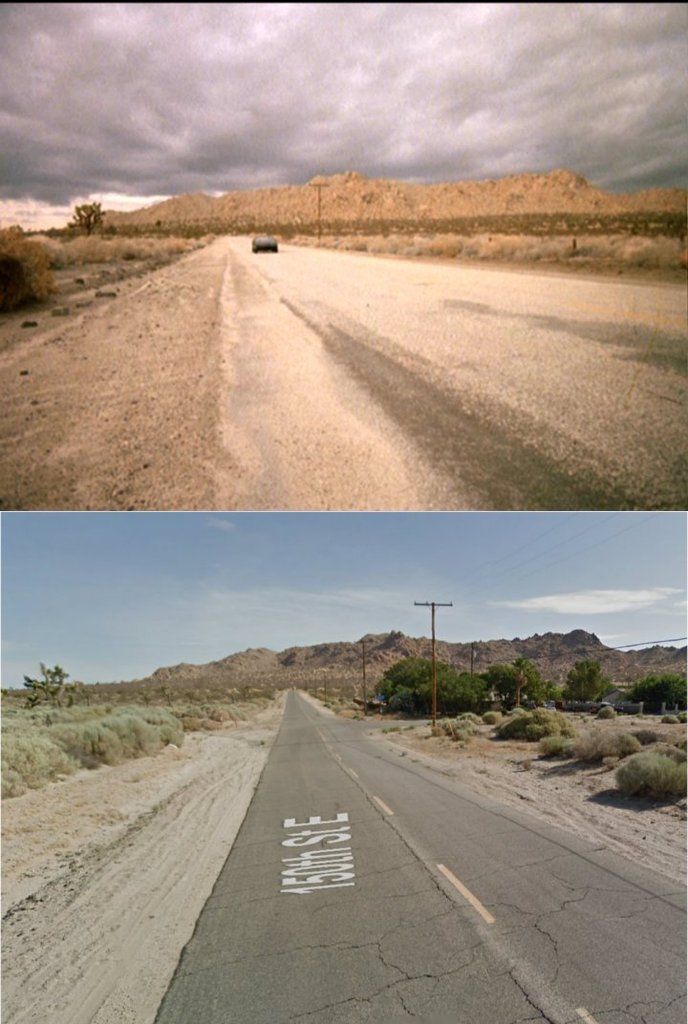 #3. night driving scene (0:24:11) (near location #2)
approximate address:
"E Ave Q" turning into "150th St E"
Lake Los Angeles, CA 93591
GPS: 34°35'13.88"N 117°51'44.97"W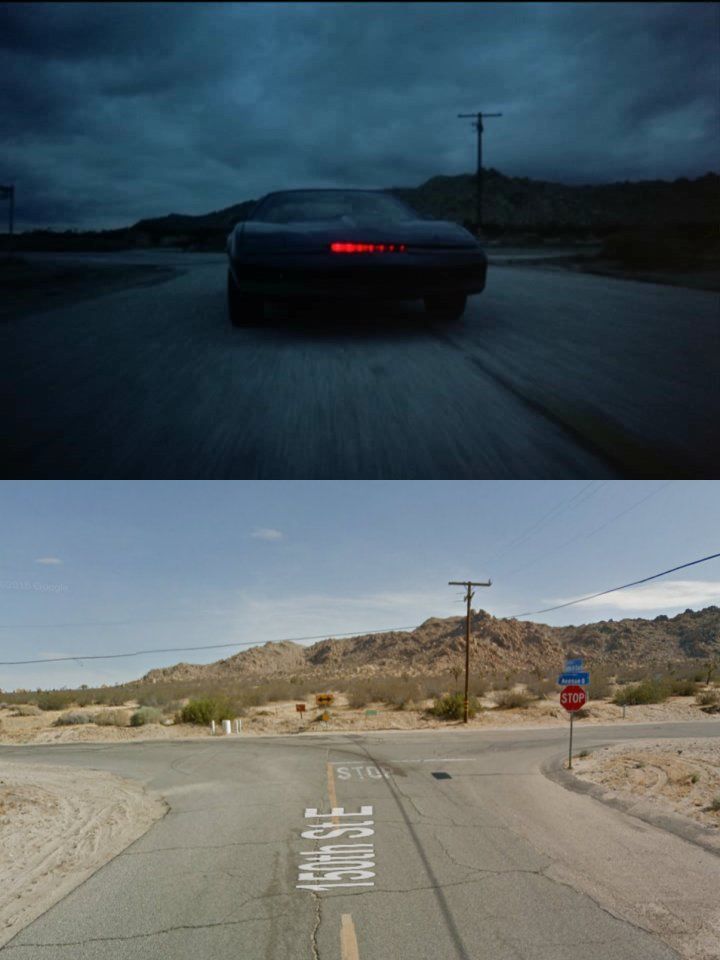 #4. driving scene (00:21:43 - 50)
Cues: dip in the middle of the road; STOP AHEAD; mountain rideg in the background.
This scene also appears in the episode "Big Iron" and many others.
approximate address:
"O Ave" and "145th Street East" (facing south)
Lake Los Angeles, CA 93591
GPS: 34°36'53.02"N 117°52'17.31"W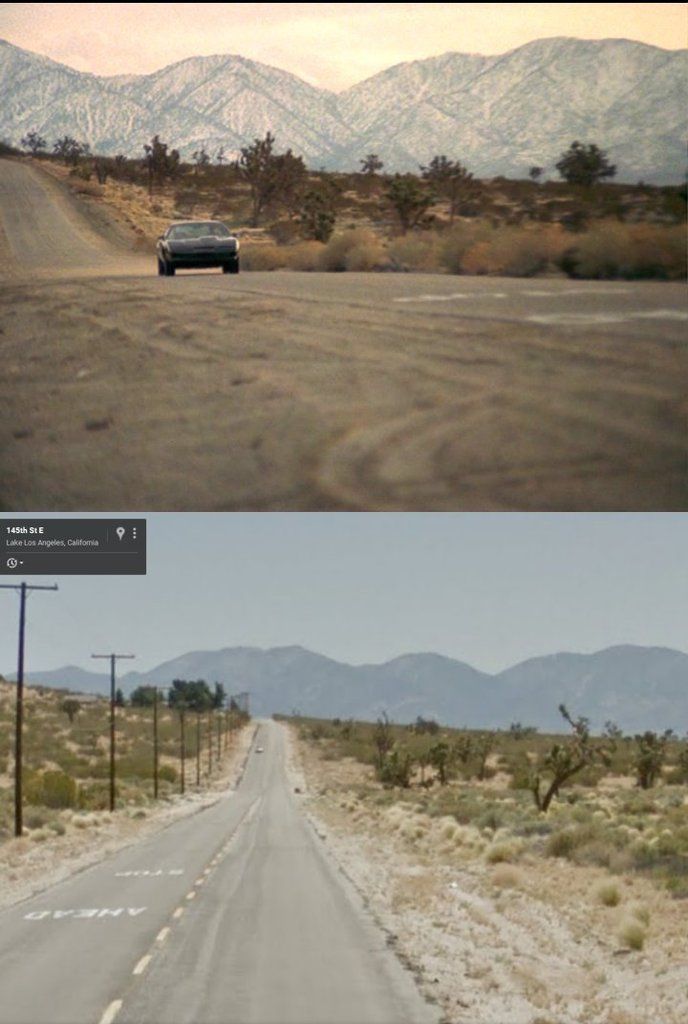 I found location #4 on a filming location website:
http://antelope-valley-film-office.hollywoodserve.com/
It appears as one of the background images:
The above locations and many desert scenes in other KR episodes were also filmed
in this region (east of the Antelope Valley). It makes sense because TV or movie
production must get approval to film at certain locations. Searching filming location
databases may reveal other KR locations not yet found!
-- I am one man who does not exist.
---